Communication is one of the most fundamental aspects of any business is effective communication. This allows the business to run smoothly by ensuring that all colleagues are aware of their tasks and creates a holistic business plan. One way in which businesses are creating better communication between their staff is through two-way radio hire. Our radios have a selection of different functions which have many advantages to customers, depending on their industry and unique needs.
Why Wall to Wall Comms
Wall to Wall Communications specialises in tailored experiences based on our 40 years in the industry. We follow a customer-centric approach to radio hire, which means the needs and wants of our clients are at the heart of everything which we do. We've worked with clients from a wide range of industries, each with their own unique requirements and potential benefits.
We pride ourselves in having on-call specialists which have been tried to an extremely high level. Their aim is to support you in training of all products, as well as helping you to fix any potential issues in an effective and efficient manner in the unlikely chance that they do occur.
For those who would like to try two-way radio without a long-term commitment, we also offer a 7-day free trial as long as all products are returned to us in their original condition.
In need of a fast solution? Next day delivery is available for those clients which are based in London.
Beneficial features of two-way radio
Our modern two-way radios have a number of different features which can be advantageous for any business.
The most obvious and used feature is the function of digital clarity. This ensures that both radio users can transmit and receive crystal clear audio. We find that alternative communications solutions can struggle with this, such as mobile phones, especially in built up or busy areas.
Another beneficial feature which many of our customers have fantastic success with digital and analogue functions of our radios. This allows users double the communication opportunities when one is not performing at an optimal level. It also allows businesses to segment their radio users to different user groups, which prevents the radio channels to become overcrowded and ensures that users are only contacted with relevant information.
One of the main reasons our clients incorporate two-way radio hire is for security. Our radios come with many features which have been designed to assist in the security. One of which is location tracking, which allows clients to see where all of their hired radios are using GPS. When radios are lost, or the person responsible of it is in danger, this feature may be highly beneficial in recovery or assistance.
When crisis or stressful times do occur, the man down function allows users to notify other members of security or staff that they are in danger. This can be the difference between life and death in extremely serious situations, as it encourages colleagues to act quickly to help and resolve the issue.
Other features which our clients have previously found useful include:
Voice encryption
Text Messaging
Accessories such as earpieces to allow for discrete but clear communication
Implementations of Two-Way Radio Hire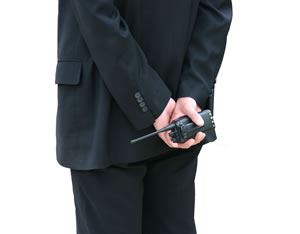 We've worked with clients from many different industries who have found success with two-way radio hire. One of the most common implementations of this have come in the form of offices.
Many offices find that mobile phone signal may be lost or reduced due to the high saturation of people in a smaller area. This can be detrimental to the communication, both between staff members and clients. Two-way radio can be an effective solution to this issue as it does not rely on mobile phone signal, can provide instant communication and run on multiple channels.
Contact us using the form below to discuss how could can implement two way radio hire in your business and start reaping its many benefits.